Hi. Today we're taking a look at the Bushnell neo+ GPS rangefinder. We honestly think this is one of the best values in the golf GPS market. It's a pretty basic unit, but it has several features, that we think, are really important.
It's preloaded with over 25,000 golf courses. There no membership fees. It includes distances to the front middle and back of every green, and also to key hazards and layup areas. The battery life is excellent, and it has a very high sensitivity GPS receiver. We read dozens and dozens of user reviews and the thing, that was most often mentioned was how easy the Bushnell neo+ is to use. So let's take a look…
When you power it up, you will see "Play Golf" is highlighted and you can simply push the OK SHOT button to get started. Next you will see a list of courses nearby and you can use the arrow keys to scroll through the list. You just highlight the course you will be playing and press the OK SHOT button again. On the main display, it shows the hole number and the distance to the center on the top and on the bottom row you'll see the distance to the front and to the back to the green.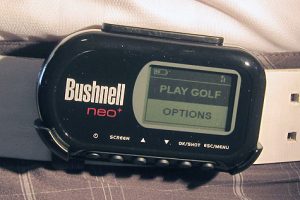 The Bushnell neo+ features Auto Hole Advance, so you won't need to worry about pressing any buttons to go between holes. That's why some people won't ever need to touch it after the first tee. To get distances to hazards and layup targets, all you have to do is press the SCREEN button. You'll see a list of targets. The target names are abbreviated, so you can see EOF would mean End of Fairway. RGB would be Right Greenside Bunker. LFB means the Left Fairway Bunker WTR of course means a water hazard. From there to get back to main screen, just push the SCREEN button again. If you want to measure the distance of your drive, you simply press the SHOT OK button before you leave the teeing ground. You will see the shot distance is 0, and as you start moving forward you'll see it display the distance, that you are from the tee box. So when you get to your ball you can just look at that number and see how far you've hit it! You can do it for any shot and you can continue if you want to reset it from you next shot, you just hit the OK SHOT button and it will take you back to zero. Or you can press the ESC MENU button to go back to main screen.
Also read about Best golf laser rangefinder and Best rangefinder under $200
Golf laser rangefinder reviews:
[Read more…] about Golf laser rangefinder reviews – Bushnell golf rangefinder with gps