Last Updated: 02/11/2022
Electric heaters are widely spread due to their convenience and an affordable cost. It is not difficult to connect to power, and also refills are not needed. And other heater types are more complicated.
Product
Dimensions,
Weight
Volt,
Wattage
Details
Andily Space Heater



Check the price

6.2" x 4.7" x 8.3"
2.85 lbs
120V, 60Hz
1500/750 watt
Three modes heater
with fan,
Ceramic heater
elements,
thermostat system,
overheat system,
tip-over switch

TURBRO Neon NW10



Check the price

8.5 x 5.1 x 5.1"
2.4 lbs
110-120V, 60Hz
700/900 watt
Three modes heater,
auto-shutoff system
that prevents
overheating, tip-over
and long-working
incidents,
2-year warranty
STANLEY ST-222A-120



Check the price

8.5" x 5" x 10"
7.6 lbs
120V, 60Hz
1500 watt
Two heat settings
with adjustable
thermostat,
Built-in tip switch
immediately turns
off heater if it's
bumped from its base

Homegear



Check the price

16" x 13" x 12"
11.2 lbs
120V, 60Hz
1500 watt
Infrared electric
portable space heater,
dual heating system -
combining mica and
quartz infrared
heating tubes,
overheat protection

PELONIS PSH700R



Check the price

12.6" x 10.8" x 7.8"
5.1 lbs
120V, 60Hz
1500/900 watt
Vortex technology,
Hot & Cool Fan Modes
with 2 heating
settings and
2 Fan-Only settings,
overheat protection,
tip-over protection
EconoHome



Check the price

29.4" x 25.5" x 2.8"
16.4 lbs
120V, 60Hz
400 watt
Wall mount space
heater panel
with thermostat,
SAVE UP TO 50% OF
YOUR HOME
HEATING COSTS

TURBRO Arcade HR1015



Check the price

26.2" x 17.7" x 10.6"
8.2 lbs
110-120V, 60Hz
1500 watt
MICATHERMIC TECHNOLOGY,
Unlike traditional
oil-filled heater,
you might not have a
burning sensation, but
you'll feel much more
gentle and comfortable
after a while.




Andily Space Heater Electric Heater for Home and Office Ceramic Small Heater with Thermostat
Andily Space Heater – Best 120v electric garage heater
SMALL HEATER MEASURES: 6.2″ X 4.74″ x 8.3″ . Manual controls. Fully Assembled. Carrying handle for easy transport. Adjustable thermostat for comfortable warmth—ideal for home or garage
THREE MODES HEATER WITH FAN: 1.High Heat (1500-watt), 2. Low Heat(750-watt ), 3. Fan Only. Power indicator light lets you know when it's plugged in
CERAMIC HEATER ELEMENTS: Ceramic space heaters are fast to heat, produce abundant heat without open coils, and are long lasting
SPACE HEATER WITH THERMOSTAT :The thermostat system can according to the thermostat setting let your room remain at a comfortable temperature.This heater can be used in small area (such as warming your feet),meanwhile warms up your surroundings
FOR SAFETY: 1.Automatic overheat system will shuts the unit off when the parts of the heater overheat. 2.TIP-OVER SWITCH will shut off unite when tipped forward or backward.3. Power indicate light can lets you know at a glance that it's plugged in. 4.ETL certified
120V, AC, 60Hz
Product Dimensions 6.2 x 4.7 x 8.3 inches
Item Weight 2.85 pounds
Our partner's review:

This little heater is amazing. It's able to heat up the master bedroom. A powerful heater with high quality. When my room gets enough heat, it turns off automatically, and when the temperature drops, it turns on again in order to keep warm area. I had a real problem before, I woke up in the middle of the night because I was cold. And so I didn't have a good sleep. Due to this heater, I don't have such problems anymore. Andily space heater perfectly copes with the task, I really like it! By the way, the price is fair. I definitely recommend this amazing little heater!!!

Check the price




TURBRO Neon NW10 Electric Space Heater Indoor, ETL Certified PTC Ceramic Heater
TURBRO Neon NW10 – Classy electric garage heater
INSTANT HEAT UP & WHISPER QUIET: Heats up to 85°F -95°F closed to the heater within 5 seconds. The noise level is around 35dBA (equal to the library environment). Best warmer for home and office, babies and pets.
ETL CERTIFIED & MULTI SAFETY GUARANTEES: Equipped with auto-shutoff system that prevents overheating, tip-over and long-working incidents. Your safety is our priority.
USER-FRIENDLY DESIGN: Avoiding burning, Neon chooses the UL94 V0-grade material which is fire-resistance, none electric conductive and lowest heat conductive. Easy to use with 4 sensitive touch buttons.
3 MODES LED TOUCH CONTROL: Different LED colors indicate HI/LO heating modes and fan mode clearly. The light is soft but it is light-off under the sleep mode.
2-YEAR WARRANTY: Please do NOT use any power strips, extension cords, or old wiring with the heater. For the first use, please run it 15 minutes to eliminate the 'new smell'. Any problems, you can easily contact us on Amazon or brand's official CS email directly.
Power Supply 110-120V / 60Hz
Product Dimensions 8.5 x 5.1 x 5.1 inches
2.4 pounds
Our partner's review:

The heater is easy to use and very efficient. There are two modes: high and low. Low mode is really enough to heat the bedroom at night despite its small sizes. There is also Fan mode for hot days in summer. What a great function! The LED lights are my favorite part! They look nice at night in the bedroom. I think this heater is safer than others.

Check the price




STANLEY ST-222A-120 Heavy-Duty Electric Heater
STANLEY ST-222A-120 – Topnotch electric garage heater 120 volt
POWERFUL: 1500 Watt/12. 5 amps capacity heats up to 165 sq. feet.
VERSATILE: Two (2) heat settings with adjustable thermostat let you choose how much heat you need.
FAST HEAT: Heats up in seconds to heat your space.
SMALL FOOTPRINT: Space saving design easily fits on a desk, workbench or anywhere in the home.
SAFE: Built-in tip switch immediately turns off heater if it's bumped from its base.
Product Dimensions 8.5 x 5 x 10 inches
Item Weight 7.6 pounds
Our partner's review:

I bought Stanley heater several days ago and I hit the mark! And now I want to buy larger heater for the workshop. I really like the design of the device because it fits my tools. And the most important thing is that it keeps me warm in the workshop. I'm going to buy it in the season as it would be a perfect gift for holidays.

Pros: good heating, nice design, easy to move it due to the big handles.

Cons: I haven't found any.

Check the price




Homegear 1500W Infrared Electric Portable Space Heater
Homegear – Super garage infrared heater 120v with remote control
Efficiently and quickly heats up a medium to large size room. Dual Heating System – combining Mica and Quartz Infrared Heating Tubes.
LED display for easy monitoring. Quiet and efficient blower fan. Remote control included.
ETL certified. Power: 1500W, 120V
Minimum 13A circuit; 15A gives even better results
Overheat protection
Package Dimensions 16 x 13 x 12 inches
Item Weight 11.2 pounds
Our partner's review:

I got two electric heaters this year. I didn't have much money, so I had to select electric or gas. Well, electric can heat your house, the gas can blow your house! LOL, I selected space heaters. I waited for my electric bill in order to share my honest opinion about this heater. The temperature was low outside. And when I looked at my bill, I was surprised because the price was lower than I expected. And it was due to the new heater. I lived in a warm house and paid less. What else you need!

Pros: it is really effective one, the heaters claim this feature, but this one really shows it. Also, it works better than the previous one even during low, cold temperatures.

Cons: it has loud noise compared to the previous one. But it is quitter than you understand the word "loud". So it is not a big deal.

Just get this product and you won't regret it!

Check the price




PELONIS PSH700R Space Vortex Heater with Air Circulator Fan, 2 in 1 Portable, 900W/1500W
PELONIS PSH700R – Tiptop garage heater with overheat protection
Vortex technology – spiral & gently & constant Smooth and continuous heating,the heat comes out gently and steadily, to deliver spiral heat to your place by vortex technology. Can fully circulate air evenly throughout the whole room (up to 107 SQ)
Powerful Air Circulator Fan At fan only settings, it can be used as a cool fan. Patented aerodynamic blades technology provides 2.5 times more air volume than other Pelonis fan heaters, provides strong power to accelerate air circulation
2 in 1, Hot & Cool Fan Modes with 2 heating settings and 2 Fan-Only settings, a real fan heater for all seasons and whole room use. By this machine, you are equivalent to having both heater and air circulator fan
[Quiet Personal Heater At Heating setting, the fan will stay uniform motion to keep somehow quiet. At High, the heat will increase greatly ,the fan won't get stronger significantly to avoid the heat to be dispersed quickly and to reduce the noise
Overheat Protection & Auto shut off When the temperature of the space heater is too high, the thermostat device can automatically cut off the power and the fan heater stops working. After the heater is cooling, it can return to the normal use
Tip-over Protection Tip-Over Protection will shut off the space heater if it gets knocked over accidentally to help prevent accidents. This room heater is safe for families with kids or pets who may knock it down
Portable Heater Design There is an easy carrying handle on the back of the Pelonis space heater, so it's easy to move from room to room. This 10-inch heater which is portable, perfect for office, bedroom, desk, bathroom ,etc.
Voltage: 120V, 60Hz
Package Dimensions 12.6 x 10.8 x 7.8 inches
Item Weight 5.06 pounds
Our partner's review:

I though that it would be smaller. But it is ok. Of course, I had doubts about its efficiency but now I can say that it works just well! The heater heated the bedroom quickly using just low settings! It's amazing. I also tried the fan function in order to see how it worked, and it cooled down the room pretty well! What I really like about this product is an automatic shutdown system. This feature is important to me because we have a cat. I will recommend it to my friends because the heater copes with its functions well just like its manufacturer has stated.

Check the price




Wall Mount Space Heater Panel - with Thermostat - 400 Watt Convector Heater - 120V Electric Heat Reflector
EconoHome – Best energy efficient heater for garage
SAVE UP TO 50% OF YOUR HOME HEATING COSTS: Lower your energy bills and still feel cozy and warm with our electric saving space heater. Our heaters use less than 1/3 of the electricity than conventional space heaters. This method will lower your energy bills immensely and will keep the room with a constant ambient warmth
CONVECTOR HEATER SPECS: Ideal for a 150 sq. ft. room. 400 watts, 120 volts, 3.33 amps. Measures 23.5 x 23.5 x ¼". ETL & IEC approved. UL 2021 & RoHS compliant. ADJUSTABLE PLUG-IN THERMOSTAT INCLUDED, temperature ranges between 41-86 °F. This unit may be HARD WIRED! We offer a 3 Year Warranty! 100% SATISFACTION OR MONEY BACK GUARANTEED!
HEAT RESISTANT TECHNOLOGY: This convector space will heat up the room quickly, while its exterior casings stay warm, most similar to ceramic heaters. These electric wall heater surfaces operate at a safe, even temperature, providing some radiant heat from the panel but most heat by convection currents that rise from behind the panel and circulates heated air around the room.
UPDATED CRACK RESISTANT VERSION: This upgraded durable model is TRIPLE REINFORCED and made with a superior calcium silicate material. TRIPLE INSULATED for electrical safety & EASY TO MOUNT on any wall. (Installation hardware Included). If used in the BATHROOM area, we recommend to hardwire and keep away from water. Enjoy the beautiful sleek PAINTABLE DESIGN which blends in with any décor, yet it's quiet & lightweight.
IDEAL FOR ASTHMA OR ALLERGY SUFFERERS: Asthma and dust allergy sufferers can enjoy warmth without irritation because the air is not dried out, nor is dust circulated around the room. NO FAN, ideal for all rooms, including babies and children's rooms and areas frequented by pets.
Package Dimensions 29.4 x 25.5 x 2.8 inches
Item Weight 16.4 pounds
Our partner's review:

I just want to say that the heater treats small to medium sized room. The smaller space would be warm for sure.
I looked for a low wattage heater for the living room, and this one works well. It works all day and night, and the room is warm enough. It doesn't look like a fan forced heater, but the chill out is supported. We use 1500 watts to keep the living room warm. And 30 degrees are enough to have toasty room. This heater is nice, and I am planning to get the same for the bedroom. It works quietly, its surface is not hot, and it is easy to mount. The mounting took me just 30 minutes.

Make sure to switch it on the night before you plan to use it. It may radiate the room. But after it works for a while, the room gets warmer. I compared the temperature in different rooms, and the room with the heater was toast, and it was just 35 degrees.

Check the price




TURBRO Arcade HR1015 Electric Mica 1500W, ETL & CA Prop 65 Certified Micathermic Flat-Panel Heater
TURBRO Arcade HR1015 – quiet electric garage heater 120 volt
Mica + Silicon
MICATHERMIC TECHNOLOGY: Mica + Silicon produces infrared light waves that replacing ceramic resistance / oil-filled heater, it can warm up space evenly by infrared light waves without consuming water or oxygen from the air. Unlike traditional oil-filled heater, you might not have a burning sensation, but you'll feel much more gentle and comfortable after a while.
WHISPER QUIET: No fan, no noise, "Arcade" creates a quiet and warm room for your sleep, creation, or other activities.
ETL & CA Prop 65 CERTIFIED: "Arcade" is proved to meet the safety standards and is toxic free. For the first use, the "new smell" will disappear after running 15 minutes. The overheating protector prevents potential hazards when the machine is getting too hot. The safety of your family is guaranteed.
USER-FRIENDLY FUNCTIONS: Hi-Lo two steps setting and adjustable thermostat allow you to select an appropriate temperature and save energy at the same time. Easily mobility due to its durable 4 castor wheels and 2 handles, tool-free installation in minutes.
1-YEAR WARRANTY: Do NOT use any power strips, extension cords, or old wiring with the heater. Do NOT use the heater in bathrooms, laundry rooms, or any high-humidity places. If you need any assistance, you can easily contact us on Amazon or brand's official CS email directly.
Power Supply 110-120V / 60Hz
Product Dimensions 26.2 x 17.7 x 10.6 inches
Item Weight 8.2 pounds
Our partner's review:

The package of the heater was good. It was not heavy. I had to put it together. I could easily move it between carpet and on the floor. The heating is quick. Its surface is sleek. The heater brings coziness in the room that are heated enough during winter. There is even a special place for the cord, and this is very convenient and neat. To mount the product, you will need a screwdriver with four screws, and that is all. When the heater reaches 45 degrees, the tip-over protection is activated. Make sure to warn your children about warm surface of the heater. There are big knobs on the control for a simple and easy usage. I got it by UPS and had a tracking number.

Check the price
Electric Heaters vs Other Heater Types
As you know, propane garage heaters used to be very popular despite a poor convenience. This type of the heater does not connect to gas and electricity, but canisters are required in this case. You have to refill it in the store from time to time. You may be left without any heat because propane quickly runs out.

There are also gas garage heaters. It should be assembled to a gas line. And not all garages have this possibility. It is still a matter of argument whether propane and gas are economical. In fact, it may be very dangerous because of carbon monoxide emission. There are even cases when a garage ventilation should be changed in order to install gas or propane heater. You don't want to face these issues, do you? So electric heaters will be your option.
Required Power
Not all people know about the wattage or BTU. And these words may mean nothing to some people. In fact, it is not so simple to identify how much heat is released, and whether the heater's power is enough for all needs.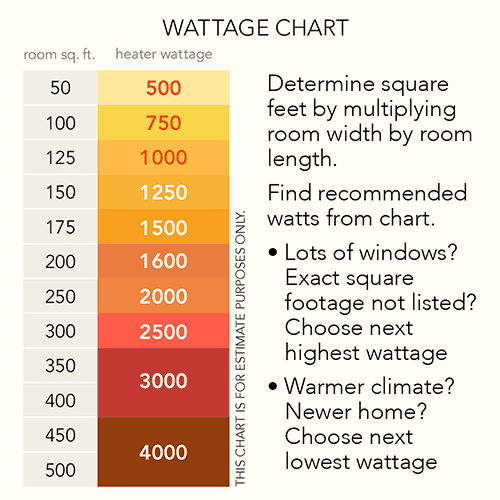 This is a rough guide, and the power depends on wattage and size of the room. Of course, there are exceptions for the economic work of the heater. But it is a useful initial point.
1 000-2 500 Watts. This heater will do well for small garages, even though it provides effective methods of heating. About 150 Square feet will do for this power.
2 500-4 000 Watts. It can be applied for garages of medium or large size. Some devices give enough heat with this power, so make sure to have enough space.
4 000 Watts and more. This one is very powerful. Warehouses and even workshops may be heated with the power more than 4 000 Watts. Do not use it in small space because it is not well minded. It will be just fine for large spaces.
Before you buy heater
If you want to invest money in a good product, you should know some important steps before purchasing any garage heater. You have to know that a heater will give you enough heat for your space as a properly selected device will last you long.

Insulating material is essential. Your heater will not get things done even at the high power if your garage or space does not have good insulation. First of all, examine the insulation in your space in order to get the maximal efficiency of your heater. And in some cases, some work should be done on the insulation before using any electric heater.

A compatibility of the power should be considered because it is the key for an electric heater in a garage. Is there any proper power supply provided? As you know, common outlet of the household power is 110V and 120V. And 240V is usually used for the garage heater. If you are brave and like problems, you may plug it in the lower power outlet and it may induce electrical troubles and an overload of the system.
Is a portable heater a good option?
The market is now full of different devices and various heaters, and so you will definitely face a portable heater for garages. This type is also used but we cannot call them the best ones because some power may be lost and some features are not good.

If you often need to move the heater from one space to another (maybe you have several workshops, or several small rooms), you may consider this option. However, you have to be ready that the portable heaters have lower power and are not able to provide as much heat as electric ones. That is why we do not describe a portable heater in this list.
Recommendations for better use of electric heater
Do you still have some doubts about the proper use of the electric heater in your garage? We would like to share simple and useful tips to get the best results during the use of the heater and avoid common mistakes.
Most modern heaters are equipped with thermostat in order to control the temperature and make sure that heating works properly during certain conditions. It will be a great solution to keep constant temperature.
A normal and quality insulation material in your space will result in a good functioning of the heater. Some people just forget about concrete floor and doorways, and they are able to neutralize heat in the garage.
The directional electric heater points the heat to a certain space in the garage. This action may be compared to the functions of air conditioning or fans. To have the best effect, the direction of the air should be considered. If some area is not used properly, it is not necessary to heat it as much.