Sometimes it happens that a garage becomes a place with collected mess. Even though you try to organize everything and keep things in order but a spring cleaning is always a good idea. You should find a time and sort all strange piles of things out in the garage. And you will find a lot of interesting stuff there. This way, you will clean your space, and get rid of the unnecessary things.
Of course, this process is not obligatory if your garage is well organized. You can achieve this with the help of good shelving in the garage to organize and store your tools, boxes, and other things.
There is a great variety of shelves coming in various profiles. It depends on a situation what profile should be used, and it has its own benefits and flaws. The benefits may be very attractive but you have to be careful and consider your space thoroughly, otherwise your shelves will gather dust in the corner.
What are the types of the shelving systems?
Product
name
Shelving
system
Product
dimensions,
(LxWxH)
Product
weight
Capacity
BestOffice



Check the price

5-tier shelving unit
on 4" wheels
48" x 24" x 76"
83.2 lbs
5000 lbs
AmazonBasics



Check the price

5-shelf shelving unit
36" x 14" x 72"
34.1 lbs
Total max load
weight is
1750 pounds
VonHaus



Check the price

4 tier garage shelving
unit with wall brackets
and sturdy rubber feet
52" x 24" x 12"
19.95 lbs
maximum load
capacity of 60 lbs
per shelf
AmazonBasics



Check the price

4-shelf shelving unit
on 3'' casters
36" x 14" x 57.8"
29.1 lbs
Total max load
weight with
leveling feet
is 1400 lbs
SafeRacks



Check the price

Garage wall shelf
two-pack 18"x36"
includes bike hooks
18" x 36"
-
Total of 500 lb
per pair
TKT



Check the price

Heavy duty shelving
5-shelf shelving unit
72" x 36" x 18"
55.1 lbs
Whole shelving
holds up to
1.925 pounds
FLEXIMOUNTS



Check the price

2-Pack wall shelf
garage storage rack
floating shelves
38" x 13" x 6.3"
57.3 lbs
Safety loading
up to 400 lbs
The most popular type of shelving systems is standard, and you can meet it in any settings. As a rule, these shelve stands have a construction with four stands where you can place as many shelves as you want. This shelving unit is able to keep the heavy loads, however, you can see all the stuff on these shelves.
The next common type is wall mount. You can mount this shelving unit anywhere you need, so this feature makes this type of the shelving system very convenient. If you do not want to keep your tools on the ground, this is what you need. Or maybe you have very curious kids? But you should take into account the weight of the things on the shelves because the wall mounts have some limits.
An overhead shelving unit provides a balance between the standard type and a wall mount. The shelves are installed on the roof beams. It gives a good security for heavy loads and provides a bigger storage space. A great advantage of this type is keeping the stuff away from other people and things. However, you may face a problem with installing this type of the shelving unit. And if you need to take something from this shelf, you should use a ladder. The cost of the overhead shelving systems is higher than other types.
If you are going to use a big shelf, it does not mean that you can store everything you want on it. You should consider a weight of the stored materials. For example, not every shelf can handle a bag with concrete. This is one of the most important characteristics that should be taken into account when you choose shelves for your garage.
Another fact to consider is a size. Some shelve can be adjusted which is very convenient. And other shelving systems have different configurations meant for different spaces. And a number of the shelves depends on these characteristics.
The shelving unit should fit a space you want, so make sure that you have measured the space and the shelves you are going to buy. The shelving system with wheels may be a good option if you are going to move it from time to time.
5-Wire Shelving Unit Steel Large Metal Shelf Organizer Garage Storage Shelves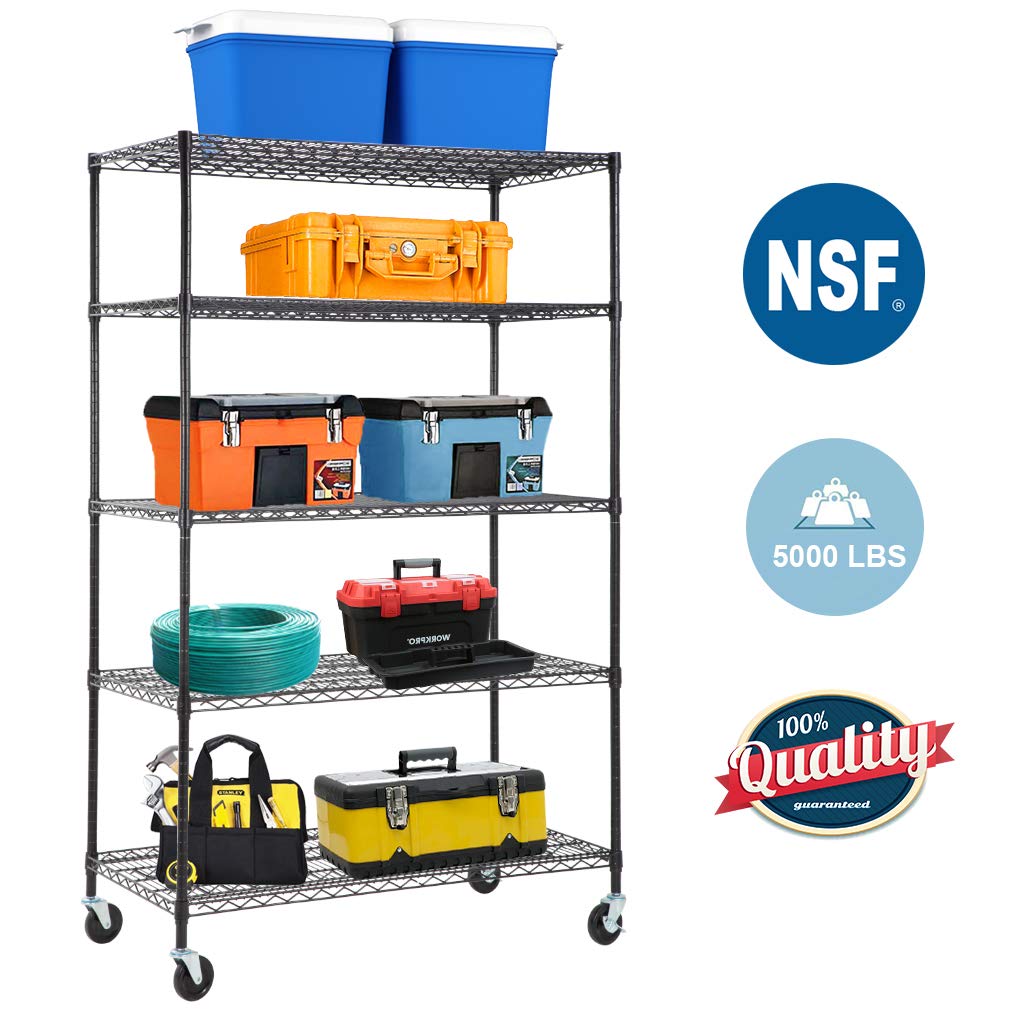 BestOffice – Best garage storage system on wheels
The wire shelving unit is easy to assemble, You only need to spend 15 minutes to install it. This storage shelves structure is very simple ,No tools required to assemble it.The metal shelf is simple to assemble, all parts packaged for idiots.wire shelving unit storage shelves metal shelf.
The storage shelves use durable steel construction,and to resist dirt buildup and corrosion. The wire shelving unit can take a lot of weight.The metal shelf is very sturdy, each wire shelf have two reinforcing ribs.Maximum weight capacity per shelf is 1000lbs when equally distributed on feet levelers.Maximum entire unit weight capacity is 600lbs when equally distributed on casters.storage shelves wire shelving unit metal shelf.
You can adjust the height of the storage shelves according to the size of the item.The spacing of each layer of this metal shelf can be adjusted.Shelves of the wire shelving unit are adjustable height at 1″ increments.storage shelves metal shelf wire shelving unit.
The wire shelving unit provide an enormous amount of space and strong shelves.This metal shelf have a lot of room for storage.The storage shelves doesn't occupy too much space,but it can create more additional space. wire shelving unit metal shelf storage shelves.
This metal shelf is suitable for a wide range of applications.You can use this storage shelves in a variety of places, such as the bathroom kitchen garage.Tools, books,clothes,bag and other things can be placed on this wire shelving unit.metal shelf storage shelves wire shelving unit.
Product Dimensions 48 x 24 x 76 inches
Item Weight 83.2 pounds
Our partner's review:

I was looking for a good and steady shelf in order to keep the shipping supplies. This type of the shelves turned out the best option for me. It looks steady, it is big that gives a possibility to hold many items. The price is exceptional because there are places that give a higher price. The shipping is not very fast but it has arrived in time, and there is no rush to me.
I would like to comment on the installation. It is not so hard if you are very attentive. Special tools are not needed. In fact, you just attach the holds to the poles. And then it is slid in the holes on the shelves. First off, I could not place them right, and then I realized that I placed them upside down. One end of the plastic piece is larger. The both parts should be attached in one place. If the hole is not placed, just flip the plastic piece the opposite direction. By the way, you should exactly know where you want to put your shelves. So take some measurements. In my case, the bottom shelf is large. It is very convenient to me. Also, you should know that it has wheels. If you do not want stable feet, you can use wheels. The feet attachments are already screwed into four poles.

Check the price

AmazonBasics 5-Shelf Shelving Unit - Black
AmazonBasics – Best garage shelving system
5-shelf shelving unit for your kitchen, office, garage, and more
Each shelf holds up to 350 pounds (evenly distributed); total max load weight is 1750 pounds
Wire shelves adjustable in 1-inch increments; no tools required
Durable steel construction with black-coated chrome finish; adjustable leveling feet
Product Dimensions 36 x 14 x 72 inches
Item Weight 34.1 pounds
Our partner's review:

The shelf is great. The installation was easy. It was also equipped with tool for the adjustment of the casters, I think it was very convenient. These shelves have the adjustable height. The shelving unit is strong enough to hold different things. If you keep small items on the shelves, you can cover them, but I do not have them because I don't need it.

I have two shelving units. One shelving unit is used as a kitchen pantry to keep food and some devices, and electric grill. I also use it for the bottled water. The jars and cans are kept in the plastic bins. It is very convenient in the kitchen. And some things may slip through the open grid on the shelves. This shelve unit stands next to the fridge. The unit is shorter than the fridge, so it makes a well organized space there. I have another shelving unit in the bathroom. It is very convenient to store towels, and other bathroom things. It is all covered with some material, and so it looks neat and nice.

The shelving unit has stationary feet and casters. The feet can be adjusted, and it helps to even the shelves. If you want, you can use a rolling shelving system. I have used the wheels to move easily the shelving unit. They are robust and quality. And I don't have to remove all the stuff on the shelves in order to move the unit. The wheels solve this issue easily keeping all things on the shelves. I have also ordered some hooks in order to hang other items on the shelves. Due to this shelving system, I saved a lot of space in my rooms. I want to order two shelving units for my garage and craft room. I highly recommend to use this shelving system.

Check the price

VonHaus 4 Tier Garage Shelving Unit with Wall Brackets
VonHaus – Best garage shelving system on rubber feet
MULTIPLE USE STORAGE: Suitable for domestic and commercial use including garages, sheds, utility rooms, offices, workshops, shops and general use around the home
ROBUST CONSTRUCTION: Robust construction with sturdy rubber feet and maximum load capacity of 60lbs per shelf
EASY ASSEMBLY: no tools required. Includes four wall brackets so you can fix shelving to the wall safely
EASY CLEAN: Simply wipe down the plastic shelves for easy maintenance
Product Dimensions 12 x 48 x 52 inches
Item Weight 19.95 pounds
Our partner's review:

This shelf has matched my expectations. I have a little space, and this shelf fits this space well. I keep some jackets and other items on it. Also, the water heater blocks the space. This shelf is firm, and steady, and it puts together rather simply. I like the height of this shelf, so that I can vertically keep my stuff. I usually keep some blankets, towels, rugs, plastic bins, and others there. I don't put heavy things on the top, so it is not anchored. However, the manufacturer assures that this shelf can hold rather heavy items like sewing machine, and others.

Check the price

AmazonBasics 4-Shelf Shelving Unit on 3'' Casters, Chrome
AmazonBasics – Best garage shelving unit on casters
4-shelf shelving unit for your kitchen, office, garage, and more
Each shelf holds up to 350 pounds with leveling feet, 110 pounds with wheels when not in motion, or 88 pounds with wheels when in motion with evenly distributed weight
Total max load weight with leveling feet is 1400lbs, with wheels when not in motion is 440lbs, or with wheels when in motion is 353lbs
Wire shelves adjustable in 1-inch increments
No tools required
Durable steel construction with chrome finish
3" industrial rubber casters for easy moving, adjustable leveling feet also included
With leveling feet measures 36x14x54.5inches (LxWxH),
with wheels measures: 36x14x57.75inches (LxWxH)
Item Weight 29.1 pounds
Our partner's review:

I like plants, so I have a great succulent collection in beautiful pots. My collection grows, and the space is not. Also, the plants do not need much water, or sunlight, and it is not convenient to move the pots around the porch. So I got several shelving units. They are black and look good. These units are kept outside, and so they are exposed to the weather conditions, despite of this, these shelving units still look great.

I have classified the pots on these shelves: some of them need more sun and some of them need more water. The units have wheels, so it is not a problem to move the shelves with all my pots. If the weather is bad, I place the units to another place or to my garage. The back shelves take a back seat to red brick house. And it may be an issue if you live on a golf course.

The installation of the units is not hard, the units have all needed parts. So I would buy these shelving systems again if I needed. But if we had children and pets, I would not let these units stand away from the wall, because it is moved freely, and a dog or a child could move it. So, take this note into account.

Check the price

SafeRacks | Garage Wall Shelf Two-Pack 18"x36"
SafeRacks – Best garage wall shelfs with bike hooks
INCLUDES: (2) 18"x36" Hammertone wall shelves, (4) Versatile deck hooks, and ALL necessary hardware.
HARDWARE: SafeRacks uses grade 8 case-hardened 5/16"x3" Lag Bolts. Most competitor's use 1/4" hardware that is Grade 2 or below.
CAPACITY: The SafeRacks Wall Shelves hold a total of 500lb per pair, easily storing anything you throw at it.
SUPERIOR DESIGN: Heavy-duty wire decks and brackets combined with an innovative design provide a sturdy and safe storage solution. Deck clips secure wire deck to wall to prevent any rattles or movement
AESTHETICS: Gray Hammertone Powder Coated Brackets with Gray Powder coated steel wire decks for a sleek and rugged look.
Our partner's review:

The product has a high quality. But I had a problem with the installation because the instructions stated to make holes, and the holes turned out small for the bolts. So I had to make larger holes with another tools. So, the manufacturer should take this into account. This helped me to solve this little problem with the bolts. There are other tools in the package, but I haven't used them. I have this shelving system in the garage, and it helps me to organize my boxes. The hooks are not used in my case.

Check the price

TKT Heavy Duty Shelving 5-Shelf Shelving Unit
TKT – Best 5-shelf shelving unit for garage
5-shelf shelving unit for your kitchen, office, garage, and more
One single shelf holds up to 385 pounds and the whole shelving holds up to 1.925 pounds max (evenly distributed)
Durable galvanized steel construction; adjustable leveling feet; pressboard shelves
You can also use it as a workbench
Product Dimensions 18.1 x 36.2 x 70.9 inches
Item Weight 55.1 pounds
Our partner's review:

I like this shelving unit because it is easily installed, however, you will need a mallet, but if the shelves do not have the bolts. In general, it is very robust. I keep paint buckets, and some other heavy things on this shelving unit. And it copes with the task well.

The boltless shelving units have one good peculiarity that consists in a deck of the top shelf. It is higher than the vertical supports, and it allows sliding the goods on and off the shelf without any problems. And the bottom of the materials will not be damaged. I would like to have 24″ shelving unit but this brand doesn't produce it.

Check the price

FLEXIMOUNTS 2-Pack 2x6ft 24-inch-by-72-inch Wall Shelf
FLEXIMOUNTS – Best heavy duty garage wall shelving
Easy one-person installation with all hardware included: Installation Template helps mount holes; Bubble Level helps get perfect horizontal loctation. (Assembly needed DIY project – Composition of four 1'x3′ shelves per tier)
More Sturdy and Stable: the buckle design with velcros prevents the brackets from falling or bending.
Heavy gauge steel construction provides safety loading up to 400lbs total.
High quality screws provided. All hardwares have gone through strict tests.
Suitable for securing to either wall studs or solid concrete wall.(Does not fit for METAL studs)
Package Dimensions 38 x 13 x 6.3 inches
Item Weight 57.3 pounds
Our partner's review:

This shelf is so cool and steady. I have 2'x4′ and now I can have 3 plastic bins on each shelf. At first, I planned to get mount shelves for ceiling, but I wanted to use them against the wall. So I got these. The size meets all my requirements. Now I see the ceiling shelves would take much time to be installed. These shelving unit holds 200 lbs.
I installed one shelf without any help, but I recommend you to have a partner because the second shelving unit was installed this way, and it was much easier. I also got the mounting template and a tiny level. It was handy even though I used 48″ level.

The only thing I don't like is that the shelves jump up from the mounting brackets without any weight on them. But the manufacturer knows this issue and offers Velcro ties to keep shelves in place without any weight on them. But when I placed them, one of the Velcro ties broke. But I flipped it over, and it was still useful and secured the shelf well.

Check the price