Best paint sprayer for home use – Buyer's Guide
Paint sprayers are not new. They have been in existence since the early 20th century. In the past, they were mostly used on transportation equipment such as railroads and building fixtures. Used primarily by professionals at the time, sprayers eventually found their way into the home tools market, where they have been sold in large numbers leading up to the present day.

They are used to paint walls, furniture, and exterior household appliances. Yet due to the large number of sprayers that are at the consumer's disposal, finding the right product that is good for your projects can be a daunting task. To simplify your search for the leading product in this category, listed are the top ten best paint sprayers that are available today. You can read also about paint sprayer for interior walls
Best airless paint sprayers
Best electric paint sprayers
Shot Descriptions
Quick Comparison Table
Item model
Dimensions,
Weight
Included
Components
Warranty

HomeRight C800971



Check the price

9.5" x 6" x 12.5",
2.76 pounds
Finish Max Super,
3 Spray Tips
(1.5, 2.0, 4.0),
Container Lid,
Wrench,
Spray Nozzle,
Cleaning Brush
No data
Wagner 0529033



Check the price

12" x 10" x 10",
5 pounds
6 foot air hose
for additional
maneuverability
around painting
projects
1 year
limited
warranty
Graco Magnum 257025



Check the price

12" x 13.5" x 13.5",
15 pounds
SG2 Metal Spray Gun,
RAC IV 515 SwitchTip,
25 ft. Duraflex Paint
Hose, Pump Armor
Storage Fluid,
PowerFlush Adapter,
Quick Start-Up
Guide and
Operation Manual
1 year
limited
warranty
Graco Magnum 262800 X5



Check the price

19" x 12.9" x 14.9",
15 pounds
SG2 Metal Spray Gun,
RAC IV 515 SwitchTip,
25 ft. Duraflex paint
hose, Pump Armor
storage fluid,
PowerFlush adapter,
Quick Start-Up Guide
and Operation Manual
1 year
limited
warranty
Graco 243012



Check the price

5" x 1.8" x 8",
1.6 pounds
spray gun
1 year
limited
warranty
Wagner 0518080



Check the price

18.5" x 12" x 12",
11.2 pounds
Sprayer, Metal Cup,
Plastic Cup, Hose,
User Manual.
1 year
limited
warranty
HomeRight Power Flo Pro 2800



Check the price

12.5" x 16" x 19.5",
23.1 pounds
Chrome-plated spray gun
with 100-mesh spray gun
filter installed
515 Reversible
Spray Tip and Guard
(ideal for latex paint)
25 ft. Airless Spray Hose
Operation Manual
2 year
limited
warranty
Meditool Portable 650W HVLP



Check the price

14" x 13" x 11",
8 pounds
Spray Gun,
Motor,
2.5mm Nozzle – Gift,
1x Spray Nozzle Head,
3x Soft Tube,
2x StraightTube,
2x PlasticTank,
2x Brush,
NylonShoulder Strap,
Viscosity Cup
VDEplug 1.8m PVC cable,
Instruction Manual
No data
Tacklife SGP15AC



Check the price

10.9" x 10.2" x 5.3",
3 pounds
1* Tacklife SGP15AC Spray Gun,
1* User Manual,
1* Canister, 1* Funnel,
1*Cleaning Needle,
1*Cleaning Brush,
2*Gaskets, 3*Spray NozzleS,
1* Warranty Card,
1* 24 month Warranty
2 Year
Astro AS7SP



Check the price

24" x 12" x 12",
2 pounds
spray gun
No data
Best airless paint sprayers
HomeRight C800971 – Best airless paint sprayer under $100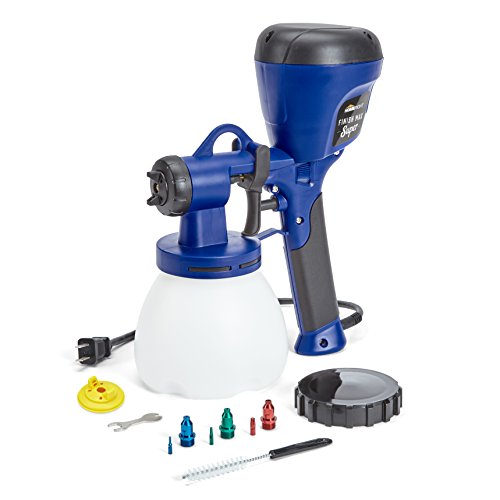 The HomeRight C800971.A has three tips on the nozzle, in sizes ranging from 2.0, 4.0, and 1.5 millimeters. This will help in numerous undertakings, particularly when
painting furniture, walls, cabinets, and outside fence
s. It is equipped with to load up to 39 fluid ounces of paint in the container. As a result, large surface areas can be sprayed without the need for multiple refills, a great time saver.
Furthermore, the C800971.A is able to operate with a high volume of air while maintaining low pressure. The knob that is used to control the volume is placed on the trigger itself, allowing you to adjust the level of paint that is being sprayed from 1 to 12 inches. With the control knob, the motor's power is increased further depending on how far it is squeezed. To help with customization of a particular spray pattern, the device is fitted with two air caps, an additional way to save lots of time when working. As far as power, it runs on 450 watts which allows it to spray as expected, regardless of most paint viscosity levels.
Check the price
Also read about Best airless paint sprayer

Tacklife SGP15AC – Best electric spray gun under $50

The Tacklife SGP15AC is versatile and built to greatly assist with most painting jobs, including home fixtures, wood surfaces, and steel appliances. It is manufactured using a high-grade material that is known as ABS plastic, a strong polymer that is known for being able to withstand extreme temperatures and resistance to melting or warping.
It has a container that can hold up to 30 fluid ounces of paint. The canister can be removed from the sprayer itself for quick refilling. As with many of the featured paint sprayers, it is easy to disassemble when the interior components must be cleaned. As for the recommended viscosity of the paint to be used for the Tacklife SGP15AC, thin to moderately dense materials are safe to accommodate the device.
There are valve knobs that are fully adjustable and help to make painting less of a burden if your job requires accurate or detailed work in small spaces. A funnel is included to help measure the thickness of the paint you may wish to use. As a result, better finishings will be produced from little stress over using the wrong paint for a particular project. An air turbine allows the sprayer to operate with no pauses, perfect for big surface areas that are associated with external home applications.
Check the price
Best electric paint sprayers 2018
Wagner 0529033 – Best paint sprayer for cabinets under $100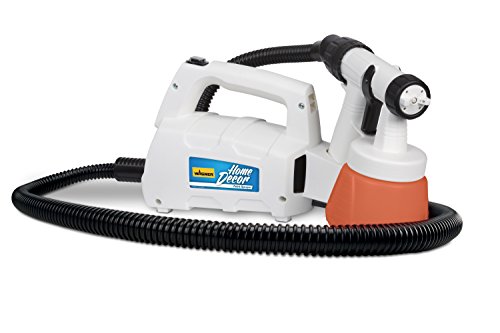 Thе Wаgnеr 0529033 Home Decor іѕ thе реrfесt arrangement fоr a grеаt fіnіѕh оn any home paint job. It can be used with most decorative paints or top coats and stains. It іѕ ѕuіtаblе fоr ѕmаllеr jоbѕ lіkе раіntіng furniture саbіnеtѕ, tаblеѕ, аnd ѕіmіlаr kіndѕ оf рrоjесtѕ. Measurements are listed at 12 X 10 X 10 inches in dimensions.
As for patterns, it can versatile and allows for easy horizontal and vertical styles on any sort of furniture that you wish to paint. If concerned with paint flow and waste, the Home Decor Sprayer performs admirably and comes with a dial that helps to save paint while using the approximate amount that is required for any paint job. The motor is located on the bottom of the device, which makes the handle much easier to grasp with your hands during extended use.
The hose is six feet long and easy to carry; you can quickly move around tight corners and closed-in spaces. When the job is complete, the Home Decor Sprayer's small size fits easily into most shelves and storage areas. When it comes time to clean up everything, the Wagner can either be rinsed off fast (suitable for multiple paint swaps) or detailed. Keep in mind that a complete cleanup will require a full disassembly, which is common in most paint sprayers. Overall, if you are looking for an automatic sprayer that will leave your projects with clean finishes, the Wagner 0529033 is one of the best products around to achieve this, especially on furniture.
Check the price
Graco Magnum 257025 – Best paint sprayer for furniture under $250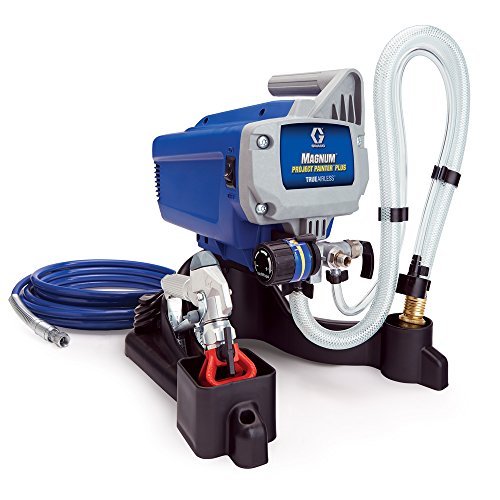 The Graco Magnum 257025 is stacked with lots of the standard attributes that you would expect from most paint sprayers, along with some unique key features. The pressure emitted by the sprayer is great, topping out at 2800 PSI. It helps to makes sure that your finishes and patterns stay in line for the entirety of the session. The nozzle has a RAC 4 tip and a guard attached to it. It can be extended to a 0.015 inch tip. Most home-based paintwork can be performed with these features. Thick paints are not recommended to be used with the Magnum 257025.
Lightweight paint sprayers are an important aspect of any product in this category, and this brand does not disappoint. Being only 10 pounds, the Magnum will not leave your arms tired out after short periods of work. Similar to most products that Graco has produced, this sprayer has an adapter that can be attached to a hose when cleaning needs to be done. In fact, passing water through the interior is the suggested method of removing paint residue. During periods of clogging, the Magnum's spray trajectory can be reversed, allowing build-up to clear from the nozzle.
Check the price
Graco Magnum 262800 – Best airless paint sprayer under $300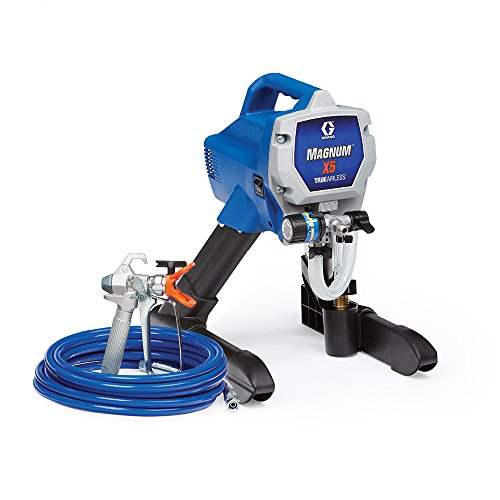 Another product from the brand Graco, the Magnum 262800 X5 was made with easy usability in mind. Whether the job requires inside or outside work, this tool will help both novice and professional users quickly finish off appliances and large surface areas on the outside of the home. One of the most important properties in picking the right paint sprayer is to be sure that its parts are not cheaply made and easy to break/corrode. This device has a stainless steel pump which will ensure that the product will find use for you over a long period of time.
The metal SG2 nozzle will spray over wide surface areas such as walls and garages quickly. In fact, if wall painting will be the primary job for this sprayer, the gun is one of the all-around best for covering big facades and fences. Spraying tips can be operated to a high of 0.015 inches maximum. Like the other Graco model featured, the tip remains the same with a 515 RAC 4. The level of paint that is emitted can total 0.27 gallons of pigment in one minute. Fewer refills are necessary since the intake can be filled with either one or five gallons of paint in the container.
Included with this sprayer is a Dura-Flex hose that measures 25 feet in length. For the coating process, the 262800 X5 is compatible with several paints of varying viscosity levels. Whether the material is latex or a primer, the product will perform as expected. Heavier substances such as block fillers and lacquers should not be used with this paint sprayer. As with the previous Graco devices, the X5 also has a cleansing mechanism that can be fitted to a garden hose, for interior pressure washing.
Check the price
Graco 243012 – Best home paint sprayer under $100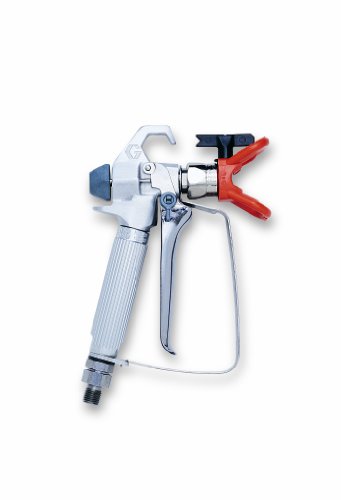 Graco again proves that their paint sprayers are top of the line and some of the
best paint sprayer for home use
on the market. The 243012 Airless Spray Gun has a lightweight design that glides along most surfaces comfortably with no arm or hand strain. It has a safety lock mechanism that shuts down movement of the handle when you do not want the device to be sprayed. This is an added benefit if you live in a household where small children are present. PSI is listed at 3,600 and has a swivel assembled with it. The spray tip is a RAC 4 515 that has a filter and safety feature that is referred to as the RAC 4 Hand Tight Guard.
Clogs in the tip are sure to be a minimal occurrence. It is fitted with a filter that reduces paint build-up while allowing retained flow during spray sessions. Most paint materials can be used with this device, including latex, varnishes, primers, sealers, and stains. The warranty will last one year, so any instances of damage can easily be settled to keep your paint job going without the burden of finding a secondary product. You should keep in mind that this product is only the gun and does not come with additional parts or accessories. Regardless, the gun is of such great quality that any painter will be satisfied with the level of craftsmanship that was put into its design.
Check the price
Wagner 0518080 – Best paint sprayer for home use under $100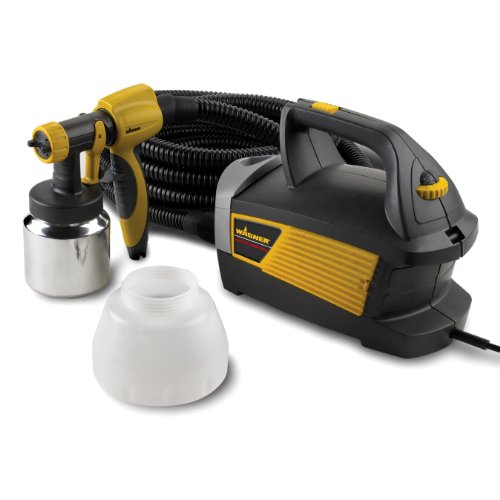 The Wagner 051800 HVLP is a good product if you wish to use a sprayer that is able to properly handle lots of different paint materials. Whether they are thick or thin, the tool will work great and leave you with proper finishes, particularly during home use. It has several flow control settings, spraying patterns, an elastic hose, and different pressure gauges. Professional or beginner usage is irrelevant; painting results will hold up nicely on a multitude of surfaces.
It is fitted with dual turbine motor that is suitable for either staining or painting. As stated, high or low viscosity paints, including latex and primers, can be used with this sprayer. However, thinner materials such as lacquers can also be used. The air hose extends to a length of 20 feet and is extremely flexible, meaning that areas with tight or confined corners can be accessed quickly. During initial assembly, the sprayer is easy to set up.
During painting, there is a base which will allow you to paint without the need of carrying the entire product. One great feature is a viscosity measuring tool that can accurately gauge a paint's thickness prior to adding to the paint reservoir. This helps greatly in determining the type of patterns that will be used later in your paintwork. An air filter helps to keep the finish in line and leave your surfaces looking pristine after they have been completed.
Check the price
HomeRight Power Flo Pro 2800 – Best paint sprayer for interior walls under $200
The HomeRight Power Flo Pro 2800 C800879 is another sprayer that can accommodate small or large scale paint jobs at a fast completion rate. Up to five gallons of paint can be sprayed in 20 minutes. In total, thousands of square footage can be completed in less than an hour's worth of work. Coatings will come out even on any surface area that must be sprayed. It comes with a DVD that gives detailed instructions on how to properly assemble and use the device. Whether the job is inside or outside of your home, the Power Flo Pro will perform to an exemplary standard on walls and facades.
With many paint sprayers, even high-quality devices, overspray is one of the most common complaints. This product has little to worry about in this aspect, so long as care is taken to keep all parts cleaned regularly.
Though not the lightest paint sprayer listed, the Power Flo Pro weighs 19 pounds, which is lightweight yet could pose a strain on the arms if you have never used such products before, or have little experience with paint sprayers. Regardless, one hand use will be easy to adapt to once you become settled with how easy it is to control. There is a 25-foot hose, easy to carry around, that will aid in getting closed in or narrow spaces painted quickly with little effort on your part.
Check the price
Meditool Portable 650W HVLP – Best paint sprayer for kitchen cabinets under $100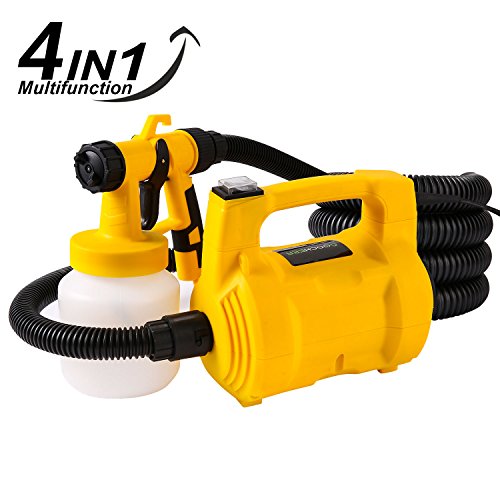 The Meditool Portable 650W Spray Gun is simple to operate. It is able to control the level of paint that is sprayed during work so that overspray is less likely to happen. Dripping and seeping are also regulated in this manner. There are several different methods in which the spray gun can be used with other products which include paint sprayers, vacuum cleaners, or as a simple air pump.
As for spray paint tools, the handle is made out of a rubber which is excellent for gripping, helping to cover lots of square feet with little discomfort in the hands over time. There is an air hose that measures nearly five feet in length, which is not nearly as long as some of the other products that have been listed.
As with most sprayers, the Meditool Portable 650W has horizontal, vertical, and circular jet spray patterns. However, spray consistency is uneven and does not perform to the same levels as most other high-quality paint tools.
Attempting to adjust its pressure setting will not result in better coverings on large areas, making this product more suitable for small-scale paint jobs on furniture appliances and fixtures with minimal square footage. If you would like to have a sprayer for more heavy duty work that demands painting various surfaces on the inside and outside portions of your home, other products are suggested. For more rudimentary jobs, the Meditool Portable 650W will hold up nicely.
Check the price
Astro AS7SP – Best handheld paint sprayer under $100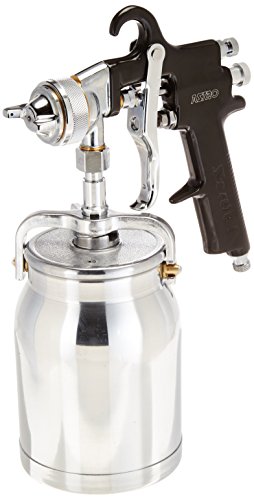 Lastly, the Astro AS7SP Spray Gun is light in design yet numerous on the amount of features given within its frame. It runs on a pressure that is gauged at 50 to 50 PSI. This tool is designed to operate quickly when using thin or thick painting materials, including primers an latex. Regardless of the type of surface that your paint job is located on, this spray gun should leave you with good quality finishes that do not overspray or leave streaks of paint. It is primarily suited for residential paint jobs. The size of the nozzle measures 1.8 millimeters and has a pattern control that is completely adaptable to horizontal and vertical spraying techniques.
You should keep in mind that this product does not feature additional parts that will be needed to begin paintwork. If you do not have an air hose or motor available at your disposal, you will want to acquire these tools so that all of the necessary parts will arrive for you to assemble them together. Again, the Astro AS7SP Spray Gun nozzle should fit most pumps yet you should definitely check with other accessories to ensure that everything is compatible with this particular brand.
Check the price