Best inflatable paddle board Reviews and Buyer's Guide
Inflatable paddle board vs hard stand up paddle boar
As stand-up paddle boards are becoming more and more popular, people are hitting the internet to find the best boards out there. When thinking about purchasing a stand-up paddle board, the first step is to decide whether you want a hard board or an inflatable board. While experts can list many pros and cons for each side, there are several main differences to highlight. First, hard boards are slightly faster, may offer better stability and balance on the water, are heavier, and easily become scratched or damaged due to dropping the board, hitting docks or rocks while in the water, or scratching against objects during transport. Meanwhile, inflatable boards are easier to travel with due to their lightweight design, great for SUP yoga, easier to store due to roll-up capabilities, are an accessible option for beginners, and are more budget conscious.

Once you decide on the type of board you'd like to buy, the time comes to start comparing specific boards and weighing the pros and cons of each. There are hundreds of inflatable stand up paddle board available in brick and mortar stores and online. This can be overwhelming to someone looking to get into paddling for the first time, especially with all the specifications listed for each board. To help get you started, we've compiled a list of ten of the best inflatable paddle boards we could find along with performance details and the pros and cons of each board. While looking through this list keep in mind that each of these boards is a great board for a different person or family based on their needs and most people do a lot of research before finding that board that is perfect for them.
Shot Descriptions
Quick Comparison Table
Item model
Dimensions,
Weight
Max.
Inflation
Pressure
Max.
Weight
Capacity
Paddleboard
kit
SereneLife Inflatable
Stand Up Paddle Board



Check the price

10' x 30" x 6"
19.6 lbs.
20 PSI
275 lbs
paddling essentials,
including a coiled
ankle cuff safety leash,
oar, manual air pump,
and convenient
storage bag
Atoll 11′ Foot
Inflatable Stand Up
Paddle Board



Check the price

11' x 32" x 6"
19 pounds
15 PSI
350 lbs
High Pressure
Bravo hand pump,
repair kit, front
and back bungee
tie downs, travel
backpack with
waist strap
PEAK Inflatable
10'6 Stand Up
Paddle Board



Check the price

10'6 x 31" x 6"
23 lbs
15 PSI
300 lbs
Paddle,
Carry Back
Pack,
Coil Leash,
High Pressure
Pump
Pathfinder Inflatable
SUP Stand-up Paddle board



Check the price

9'9 x 30" x 5"
20 lbs
15 PSI
240 lbs
Adjustable aluminum
paddle, pump,
detachable center
fin, carry bag
ANCHEER Inflatable SUP
Stand Up Paddle Board 10′



Check the price

10' x 32'' x 6''
20 lbs
15 PSI
286 lbs
SUP Board,
Adjustable Paddle,
Bravo High
Pressure Hand
Pump With Gauge,
Backpack,
Repair kit
iROCKER CRUISER Inflatable
Stand Up Paddle Board



Check the price

10'6 x 33'' x 6''
25 lbs
15 PSI
400 lbs
Floating
fiberglass
paddle,
hand pump,
Backpack,
Repair kit
HydroForce White Cap
Inflatable Stand Up
Paddleboard SUP
and Kayak 10′



Check the price

120" x 32" x 4"
34 lbs
15 PSI
209 lbs
aluminum oar,
Air Hammer
inflation pump,
travel bag,
pressure gauge
Ten Toes 10′ Weekender
Inflatable Stand Up
Paddle Boar



Check the price

10'x30"x6"
27 lbs
18 PSI
250 lbs
aluminum Paddle,
3 removable
nylon fins,
manual pump
Inflatable Stand Up
Paddle Board by Roc
Paddleboards 10'



Check the price

10'x33"x6"
29 lbs
20 PSI
350 lbs
Backpack,
Adjustable Paddle,
Automatic
Electric Pump,
waterproof
floating bag,
ISLE 10'4 Airtech Inflatable
Yoga Stand Up Paddle Board



Check the price

10'4" x 31" x 6"
18.2 lbs
15 PSI
255 lbs
Paddle,
Carry Backpack,
High pressure
pump
Update 2019:
Peak Expedition Premium Inflatable Stand Up Paddle Board 6"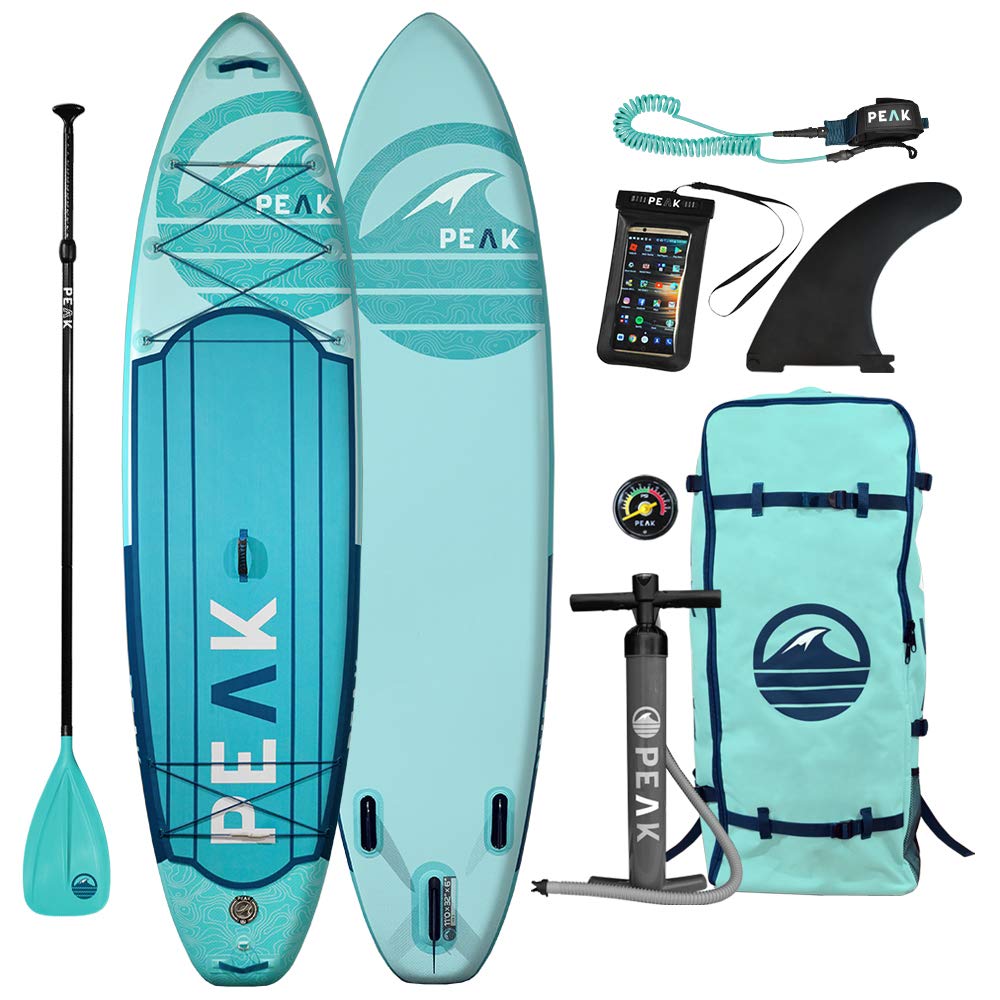 PEAK Paddle Boards – Best Stand Up Paddle Board 6" 2019
The paddle boards are like for diving boards through exploring the sea. Those are mainly used for diving in alongshore by the adventures lover. The famous USA Company PEAK has launched a new type of paddle board that comes with various types of important accessories.
BUILT FOR EXPLORATION: Designed for the paddle board warrior, the inflatable SUP board features a hybrid nose for fishing, touring, snorkeling, spear fishing, or recreational paddling in all weather conditions
35% LIGHTER CONSTRUCTION THAN COMPARABLE MODELS: Weighs only 19.5 lbs when inflated and the extra wide stance ensures a stable and sturdy stand up paddleboard; soft EVA deck pad adds comfort for additional rider or pet; 350 lb. weight capacity
READY TO SURF iSUP ACCESSORY BUNDLE: Ideal for all skill levels and water conditions, the set includes a peak inflatable paddle board, paddle, coil leash, high pressure pump, fin, and waterproof phone case; all fits in the included carry back pack
TOUGH 6" MILITARY GRADE PVC CONSTRUCTION: Puncture resistant tough outer shell means no worry about dings or damage; lightweight design with nose and tail carry handle for easy transport; front and rear bungee cord secures water bottle and gear
USA DESIGNED AND RISK FREE RETURN: 30 day guarantee and 1 year warranty on materials, measures inflated: 11 x 32 x 6 inches, rolled: 15 x 36 inches; weighs 19 ½ pounds
Check the price
Pros:
Made For Exploration

This design, is made for exploring the sea by surfing. It is like a sea warrior in high waves. The design is so scientific, that any professional surfer likes that. The curvatures of the board and sporty look attract people to purchase it. The board comes with 3 pieces of Aluminum ravel paddle which is completely adjustable.

Light Weight

The surfing boat must be light weighted. Otherwise, it cannot be ported easily. This paddle board has only 18 kg of weight that is 35 percent lighter than the normal board. If the air is pulled out, the board can be folded like a piece of cloths and can also be placed inside a bag properly.

Suitable Accessories bundle

Many of the boards come without fundamental equipment. But this model has come with various parts like the adjustable paddle, a manual air pump, user manuals and also water resistant mobile guard. For these additional features, the purchasing of the product is so much fruitful. Moreover, a hard plastic bag is provided to collect all the equipment and for easy portability.

Suitable Design

The design is suitable to uplift 150 kg of weight at a time. For this, any heavy or light person can get the joy of boarding while traveling in the sea. The sporty look attracts people for features and magnetic color combinations.

Manufacturing Warranty

The board has 1 year of complete manufacturing warranty including all parts. Moreover, the company provides 10 days of replacement guarantee to the users, if there is any defect like tearing or damage.

Fast Inflation

The board takes a minimum time of 5 minutes to inflate by a manual pump in 15 minutes. If there is an automatic pump, it takes only 5 minutes to be shaped.

Attractive colors

The paddle boards have rolled out in the market with the seven attractive sporty looks. The color varies with the sizes of board. All colors are mixed and the sizes come between 10"-12". The mix color combination is the new attraction by the company in 2019.

Included Air pump

This series of paddleboard comes with a manual air pump that is so much necessary for portability. If there are any emergency needs of air, the manual pump helps to pour the air in.
Cons:
No Padded Backpack Straps

The backpack comes with no padded straps. So sometimes for long distance, it cannot be taken in hand or in back properly.

No Holder for Attaching Feet

No balancing feet attachments are available on this board. So sometimes if there is created of misbalance, it will not be so much fruitful for the customers.
Aquaplanet 10ft PACE Stand Up Paddleboard - Incl: SUP, Hand Air Pump w/Pressure Gauge, Adjustable Aluminum Floating Paddle, Repair Kit
Aquaplanet – Best inflatable paddle board for beginners
The paddleboards are so much attractive rides while an adventure loving person is going to sea. The AQUAPALNET has launched a new type of paddleboard which has come in the market with all kinds of required additional instruments with it.
ALL AGES – Versatile all-rounder inflatable stand up paddle board with incredible stability for all beginners and families
ALL WATERS – Suitable for use in lakes, rivers, canals & choppier seas , use for touring, yoga, surfing and racing, with a more pointed shape, perfect for cutting into waves
CONVENIENT & COMPACT – Paddleboard assembles easily in just under 10 minutes, Just inflate to 15Psi for a super rigid board.
GREAT VALUE – Superb quality at an unbeatable price
COMPLETE – No need for any extras, this set has all you need to get the SUP Bug !
Size: 10'6″ x 30″ x 6″ (3.25m x 0.76m x 0.15m)
Weight: 24.25 Lbs (11kg)
Check the price
Pros:
Attractive Design

The paddleboard has a design like a sporty surf board. Moreover, the color combination and the stickers attract the buyers towards it.

Water resistant

The board is made of high qualities of PVC. There are sponges between two layers of PVC. For both side PVC, it is completely water resistant. The sponge never wet because there are three layers of PVC with plastics laminations.

Compact Look

The board has a compact sporty look.  It can be assembled in 10 minutes with all additional components. It takes only 15 psi of atmospheric pressure for being rigid. There is an EVA Deck that is so much deep. For it, the rider can sit on it with ultimate comfort and it reduces additional jerking.

Economic Price

The board has arrived into the market with all additional components in just 298 Dollars. It is so economical to consumers. Moreover, very few companies offer these additional features with the paddleboard in this price.

Tough Grip

There is a tough grip to hold it while there are high tides. It keeps more balancing to the rider and makes a safety feature to the board. The tough grip makes a friction sense to the human body for not being slipped out. For this, the upper PVC layer is designed to create a balancing grip to the user.

Technical Specifications

It is 3.25 meters long with a minimum weight of 11 kg for easy transportation. The packs come with one number of boards with the manual air pump, pressure gauge repair kits and also along rucksack for setting all the equipment in one place properly.

Adjustable Designed Fins

The fins can be manually connected. Moreover, those can be lined up as you wish. One can set the only central fin. If there need more traction force, the side fins must be connected.

Additional Features

There is a padded handle for hanging the board on the wall or to taking it while traveling. It is like an additional feature to the consumer in the economic price.
Cons:
No color Combination

Unfortunately, the company has rolled out the only a single color combination of this model. So as a user's choice, there must be more color choices for more attraction.

No padded handle for bags

The quality of the bag is not so much good. Moreover, the handle is not padded and also weak. So it cannot be used for long time holding.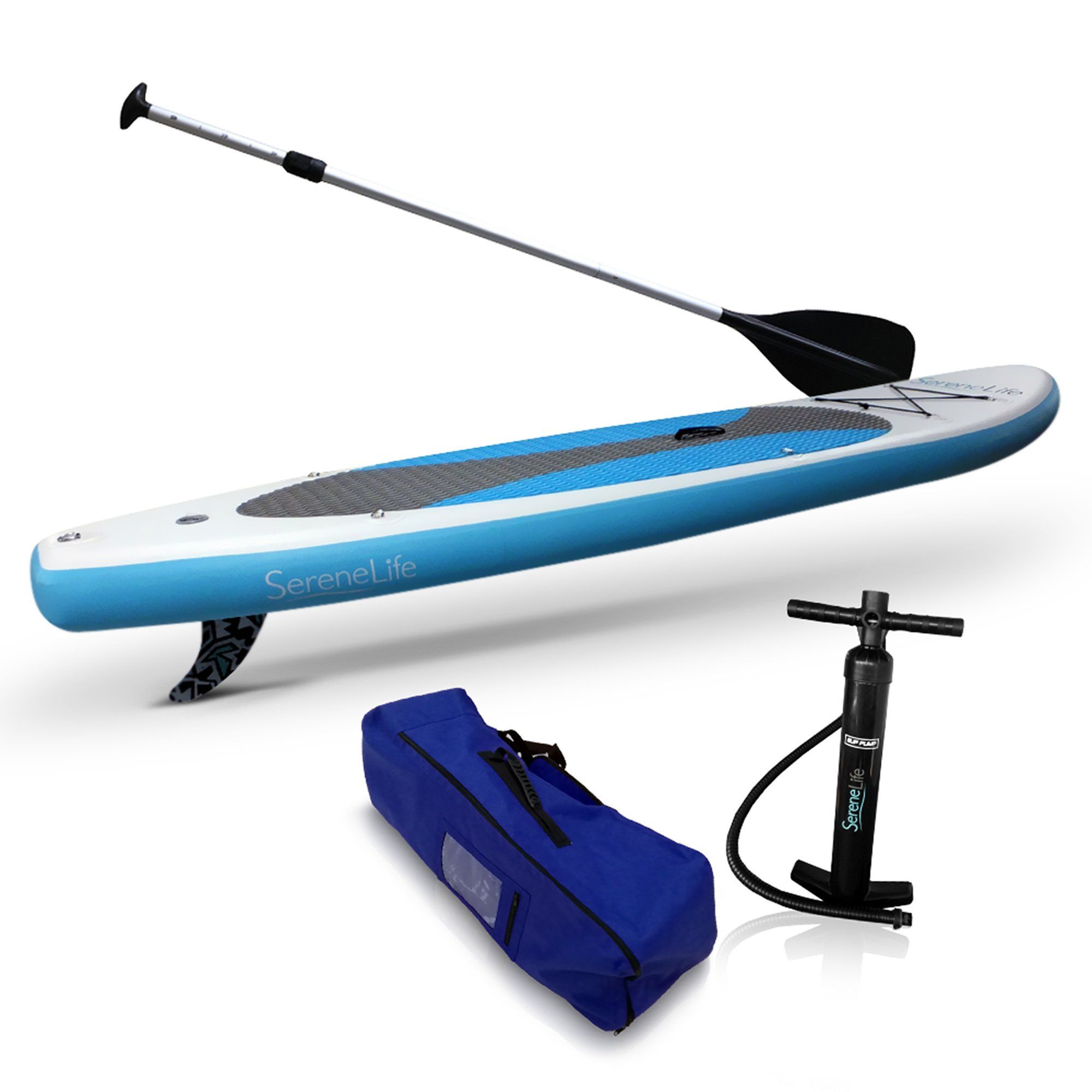 SereneLife has been your go-to company for outdoor and camping needs such as an electric bug zapper, outdoor portable toilets, portable sinks, and now this top-notch inflatable paddle board offers a new way to get outside and enjoy nature.
This board boasts amazing reviews across the internet, and it's not hard to see why. This wide board featuring a non-slip deck is great for use by both adults and children thanks to its in-water fins that make steering a breeze. Also, this board comes with everything you'll need to get out on the water: safety leash, oar, air pump, and a storage bag.

Pros:
This board is great for beginners
The adjustable paddle length allows for easy transitions between standing and sitting
This board is budget conscious and a great value for its price
The six-inch thickness increases buoyancy and enables the board to handle more weight than other boards
It is easy to roll up and store in small spaces
Its high weight capacity easily allows for multiple riders
The paddle is designed to float
The board is quick to inflate
The board is compatible with a detachable seat (sold separately)
Check the price

Also read about Best inflatable paddle board under $400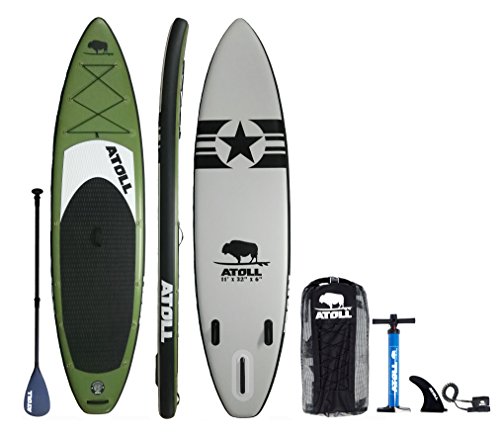 Southern California-based Atoll Board Co. have put all their creative, engineering, and manufacturing energy into creating this single board, and it shows.
This easy-to-transport board comes with a lightweight three-piece paddle, detachable fin, leash, air pump, and heavy-duty backpack for transport. The board boasts reviews of being able to hold large amounts of rider weight including multiple riders (And pets!), being carefully packaged and shipped so the board and all its components are intact when they arrive at your door, made with tough materials for durability, and being extremely stable when out on the water. Additionally, there is great internet presence from the board's manufacturing company, Atoll, providing excellent customer service including quick answers to questions and problem resolution.

Pros:
This board features a lightweight design
It comes in interesting, unique color and design options
It is easy to pack up and store in the provided carrying case (with room to spare!)
There is a 2 year warranty option available when purchased online
The thick PVC material used to manufacture this board promotes durability
There is an easy to attach and detach fin for easy storage and smooth riding on the water
It handles choppy waters well
Reviewers comment that the company provides great customer service
Check the price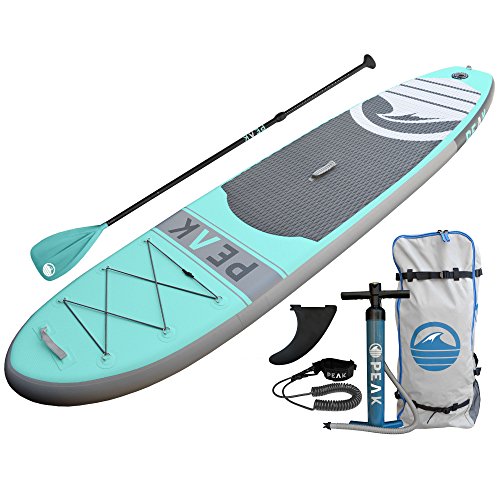 This San Diego-based company has worked since 2004 to bring the best paddle boards to riders, and this board is no exception. Their fun, party-resembling advertisements draw in buyers with the promise of a social, exciting experience with this board.
This beautifully designed board is sure to get you compliments as you comfortably ride through calm lakes and rivers. This board may need some adjustment when you first use it, but as you continue to practice and use the board you'll find yourself gliding through choppy water on a board that you're proud to own.

Pros:
This board features a stylish design!
There is a 30 day guarantee and 1 year warranty available when purchased online
The board holds up to 350 pounds!
It is easy and quick to pack up and transport
The package comes with a repair kit
The board is easy to clean to keep colors bright!
This package comes with a colored paddle–never get your paddle mixed up again!
There is plenty of room for you and your pet to ride at the same time
Reviewers write about stability both on calm and choppy waters
Check the price

Cons:
There is only one color option available
Some reviewers report air leaks
The materials may not be as durable as stated
Problems have been reported with the fin unlatching during use
The rider needs to check seams before heading out on the water to make sure there are no ruptures
This board may be difficult to roll up
PathFinder is a company that is well-known in the paddling industry, and this inflatable and affordable board makes it easy to see why!
This board is available in two BRIGHT colors (orange and blue) and its bungee cords allow riders to take cargo (sunblock, water bottle, waterproof camera, etc.) with them on their ride! While this is a shorter and thinner board, reviewers still remark this cheap inflatable paddle board as a great buy!

Pros:
This board is very budget friendly!
The bungee cords on the board's deck can secure any cargo
It is very easy to inflate using the manual pump
Check the price

Cons:
This is a shorter board so it is best suited for shorter riders
It is not as thick as other boards, and therefore may not be as stable on the water
The company itself comes with poor customer service reviews
There are several reports in customer reviews of poor pump quality
The board may lose air pressure quickly during use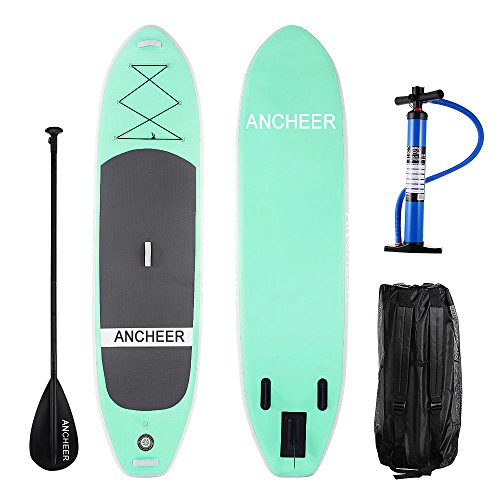 ANCHEER is known for exercise and fitness equipment including electric bikes, scooters, skateboards, and outdoor equipment. This new addition to their lineup offers buyers another way to embrace wellness in their lives through paddle boarding.
This board is ideal for riders who want to cruise around a lake, do SUP yoga, fish from their paddle board, or sight-see along calm waters. The package comes with a paddle, detachable center fin, carrying backpack, dual function pump, and a repair kit.

Pros:
The company provides a guarantee to protect your purchase when you buy online!
The three fins give the board stability and allow easy turning while paddling
It is easy to get from land to water thanks to the carrying handle
There is bungee storage on the deck
This board comes in six bright colors!
It is easy to transport thanks to light weight
Once fully inflated, the board is stiff enough for activities such as fishing and yoga while in the water
This board is easy for kids to ride without falling in the water
Check the price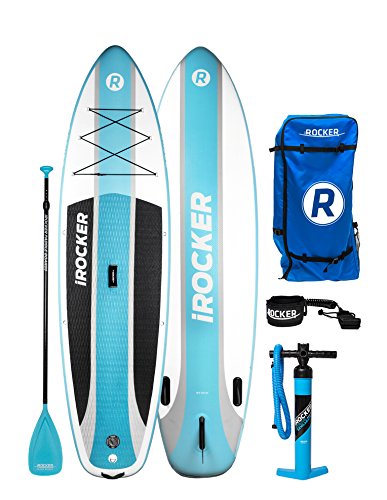 This newer board is making waves in the paddling industry with its growing number of followers online. With durable materials, a long warranty and inclusive accessory package, this board is holding its ground with the older industry favorites.
Best inflatable paddle board is able to hold up on those high-wind days, cruising through waves and providing riders with a secure and stable ride out on the water. There are excellent reviews for this board all over the internet, including in the review sections for other boards. It is a durable, weight-bearing board that users love. The accessory package includes a safety leash, high-quality paddle, carrying bag, and manual hand pump.

Pros:
This board has a weight limit of up to 400lbs!
The fiberglass paddle is easy to adjust
There is a two-year warranty available when purchased online
It is easy to store paddle under the bungee straps so the rider can do SUP yoga without worrying about losing their paddle
This larger board is suited for larger riders and choppier waters
The leash is very comfortable to wear and stays that way for your whole ride!
Never lose your paddle again with this floating paddle.
This board is easy for beginners and young riders to use and provides experienced riders with the features they are looking for.
This board has received great reviews across the internet.
Check the price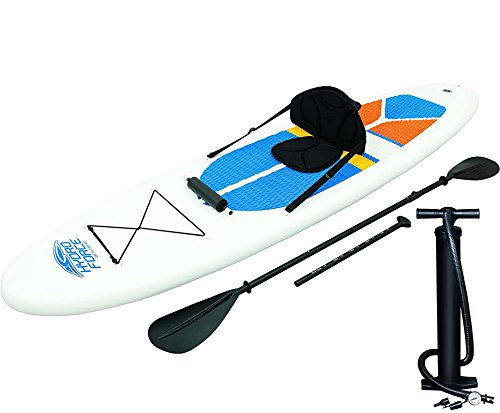 This paddle board-kayak combo is the answer to your prayers if you're looking for something lightweight that is easy to transport and get into the water when you're headed out on solo trips and don't have help. It comes from the company, Bestway, known for above ground pools and inflatable pool toys.
This board allows riders to choose if they would like to paddle or kayak each time they go out on the water without having to buy more than one board/boat and does so at an amazing price! Aside from this versatility, the board offers a brightly colored design, inclusive accessories package, and easy-to-transport design making it accessible to a variety of paddlers!

Pros:
The kit comes with a seat that features a back rest as well as a footrest to transform your SUP into a kayak!
This board is budget friendly
Cargo straps are located at the front of the board
This is a great starter paddle board for those looking for their first board
It is capable of handling a variety of conditions out on the water
Check the price

Cons:
This board has a lower weight limit than other options
There is only one color available
This white board may get dirty easily, and this is the only color option
This full-length paddle board can be difficult to transport for some users
It is not as thick as some other boards so it will begin to rock during wavy conditions
Ten Toes offers a great paddle board package for family fun and beginners looking to explore the world of paddling!
This is a great board for families looking to have fun out on the water doing tricks on and off the board and priced low enough that families can get more than one! The package comes with an adjustable paddle, three removable fins, and a manual pump.

Pros:
There are 10 color options available!
The deck mat is unlikely to wear down easily
The board is sturdy enough for beginners as well as those looking to do yoga on the board
There is a one year warranty available when purchased online
This is a great starter board
The board comes with an inclusive accessories package
Check the price
This company is well-known in the paddling world and is now offering a great inflatable board package with high-quality accessories.
The creative, cool graphic designs on this board will impress when you're out on the water. This board also comes with an electric air pump that will be the envy of every other inflatable board user struggling to inflate their boards with manual pumps.

Pros:
The waterproof, floating dry bag keeps your items (keys, watch, cell phone, camera, etc.) safe while you're out on the water
There is a 2 year warranty available when purchased online
This wide design comes with a heavy weight limit
This is a great set-up for first time paddlers
It is easy to inflate with either of the included pumps
The board features fun graphic designs to make your board stand out
It is great for both cruising calm waters and surfing
The gripping material covers the majority of the deck to help prevent slipping
There are stainless steel d-rings located at the end of the board
Check the price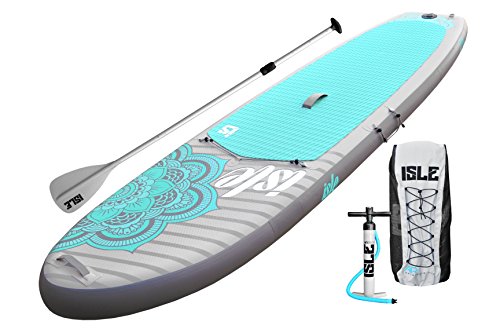 ISLE Surf and SUP is a company with several products out in the paddling world that continue to draw in both beginners and experienced riders with their eye-catching designs, wide price range and proven ability for handling different environments and conditions.
This inflatable stand up paddle board is stable enough for the SUP yoga enthusiast, light enough for those concerned about the weight of other boards, and stylish enough for even the most discerning consumers. This board package includes a paddle, carrying case, and high pressure pump. Whether this is a gift for yourself or someone else, it is sure to meet every need.

Pros:
This thick and long design provides a great option for riders of all sizes
This board's shape offers improved stability on the water
It is lightweight and easy to carry
It is great for multiple riders and pets
The board is firm when inflated creating easy balance for the rider
It is made from durable materials that create a long-lasting product
This board comes with a 60 day guarantee and one year warranty when purchased online
It is manufactured by a company with strong online presence that allows buyers increased accessibility and improved customer service overall
Check the price

Cons:
The included pump might break easily
There is only one color available
The paddle can be difficult to adjust
A newer model is available on other sites which may have improved on this board's capabilities
Buyer's Guide

Deciding Which One is For You
While this list can help you narrow down hundreds of options to just ten, it is up to you to decide which features are most important and which will not be as important for your intended use before picking a board and heading out on the water. Are you going to do SUP Yoga? Find a board with more stability. Do you want your board to hold several people and a dog? Find a thick board with a high weight capacity. Is this your first board and you don't want to over-commit with an expensive board? Then maybe a less expensive option is the right choice for you. Whichever inflatable stand up paddle board you choose now or in the future and however you use it, it's always an amazing feeling being out on the water, and you're sure to love this way of interacting with nature. Happy paddling!